Software-Defined Networking and Cloud: Hands on OpenStack integration with OpenDayLight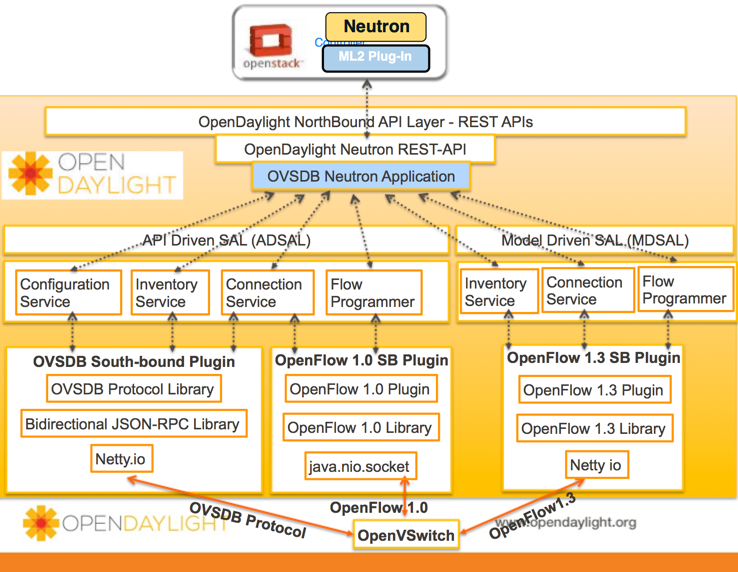 Getting started with Software-Defined Networking could be an unpleasant experience especially with open-source that evolve quickly with lag between the software releases and the documentation. This article aims to introduce the current trend on network programing with OpenStack (Pika release) and OpenDayLight (Nitrogen release).
Introduction
OpenStack is a set of software tools for building and managing cloud computing platforms. It is my favorite to play with the cloud as it lets users deploy virtual machines and container instances and enables managing a cloud environment on the fly. OpenStack is available to install using multiple distributions including
RDO Project
,
Mirantis
, and
Devstack
. in this hands on, i will only describe the process with DevStack.
The networking service on OpenStack is handled using the
Modular Layer 2 (ML2) plug-in
to simultaneously utilize the variety of layer 2 networking technologies. its main implementation is using
Open vSwitch
(OVS). OpenDaylight is an SDN controller back-end used to control OVS using a a library of drivers and plugins called networking-odl that integrates OpenStack Neutron API with
OpenDaylight
. For this integration,
ML2 driver
and
L3 plugin
are used to enable communication of OpenStack
Neutron L2 and L3 resources API
to OpenDayLight Backend.
As Neutron uses OVS for underlying networking, it creates communication bridges called br-int, br-ext, and br-tun. these bridges enables communication between VMs and the external network at L2/L3. Two operation modes are supported by OVS: normal mode and SDN mode.
By default, OVS behaves in Normal Mode. To activate SDN mode,
Networking-ODL
is used. Networking-ODL is a Neutron plugin project that is used to manage the Neutron OVS via OpenDayLight SDN Controller using a specific applications : odl-ovsdb-openstack.
Environment
I am using two machines for this experiment. My favorite
Intel IoT gateway
(Sorry Intel, i am running it under Ubuntu 16) as a host for the SDN controller. My favorite
System 76 Kudu
also running under Ubuntu 16 as a cloud (Devstack). The machines are connected to a control network 10.0.0.0/24 and a data network 10.1.0.0/24
The controller is called gw with the following configuration :
charif@gw:~$ sudo lshw -short
H/W path           Device     Class          Description
========================================================
                              system         Dell Wyse Thin Client Desktop 3290 (Null)
/0                            bus            Dell Wyse Thin Client Desktop 3290
/0/0                          memory         128KiB BIOS
/0/4                          processor      Intel(R) Celeron(R) CPU  N2807  @ 1.58GHz
/0/4/6                        memory         32KiB L1 

cache


/

0

/

4

/

7

                        

memory

         

1

MiB L2 

cache


/

0

/

5

                          

memory

         

24

KiB L1 

cache


/

0

/

8

                          

memory

         

4

GiB 

System

 

Memory


/

0

/

8

/

0

                        

memory

         

4

GiB SODIMM DDR3 

Synchronous

 

1333

 MHz (

0.8

 ns)
/

0

/

8

/

1

                        

memory

         SODIMM [

empty

]
/

0

/

100

/

1

c/

0

        enp1s0     network        RTL8111/

8168

/

8411

 PCI Express Gigabit Ethernet Controller
/

0

/

100

/

1

c

.1

                   bridge         Atom Processor E3800 Series PCI Express Root Port 

2


/

0

/

100

/

1

c

.1

/

0

      wlp2s0     network        Wireless 

7260


/

0

/

1

               scsi0      

storage


/

0

/

1

/

0.0.0

         /dev/sda   disk           

32

GB 

32

GB SATA Flash
/

0

/

1

/

0.0.0

/

1

                  volume         

511

MiB Windows FAT volume
/

0

/

1

/

0.0.0

/

2

       /dev/sda2  volume         

25

GiB EXT4 volume
/

0

/

1

/

0.0.0

/

3

       /dev/sda3  volume         

3971

MiB Linux swap volume
/

1

                            

power

          Smart Battery


The cloud machine is called lap1 with the following configuration:
stack@lap1:~$ sudo lshw -short
H/W path         Device      Class          Description
=======================================================
                             system         Darter UltraThin (Not Applicable)
/0                           bus            Darter UltraThin
/0/0                         memory         64KiB BIOS
/0/14                        processor      Intel(R) Core(TM) i7-4500U CPU @ 1.80GHz
/0/14/15                     memory         512KiB L2 

cache


/

0

/

14

/

16

                     

memory

         

128

KiB L1 

cache


/

0

/

14

/

17

                     

memory

         

4

MiB L3 

cache


/

0

/

18

                        

memory

         

16

GiB 

System

 

Memory


/

0

/

18

/

0

                      

memory

         

8

GiB SODIMM DDR3 

Synchronous

 

1600

 MHz (

0.6

 ns)
/

0

/

18

/

1

                      

memory

         DIMM [

empty

]
/

0

/

18

/

2

                      

memory

         

8

GiB SODIMM DDR3 

Synchronous

 

1600

 MHz (

0.6

 ns)
/

0

/

18

/

3

                      

memory

         DIMM [

empty

]
/

0

/

100

/

1

c

.2

/

0

    wlp2s0      network        Wireless 

7260


/

0

/

100

/

1

c

.3

/

0.1

  enp3s0f1    network        RTL8111/

8168

/

8411

 PCI Express Gigabit Ethernet Controller
/

0

/

1

/

0.0.0

       /dev/sda    disk           

240

GB INTEL SSDSC2BP24
/

0

/

1

/

0.0.0

/

1

     /dev/sda1   volume         

207

GiB EXT4 volume
/

0

/

1

/

0.0.0

/

2

     /dev/sda2   volume         

15

GiB 

Extended

 

partition


/

0

/

1

/

0.0.0

/

2

/

5

   /dev/sda5   volume         

15

GiB Linux swap / Solaris 

partition


/

0

/

2

             scsi1       

storage


/

0

/

2

/

0.0.0

       /dev/sdb    disk           

240

GB INTEL SSDMCEAW24
/

0

/

2

/

0.0.0

/

1

     /dev/sdb1   volume         

223

GiB Windows FAT volume
/

1

               virbr0-nic  network        Ethernet 

interface




Installing OpenDayLight
First, let install ODL out of the box:
charif@gw

:~

$ sudo apt-get install openjdk-

8

-jdk
charif@gw

:~

$ wget 

https:

/

/nexus.opendaylight.org/content/repositories/public/org/opendaylight/integration/karaf/0.7.1/karaf

-

0

.

7.1

.tar.gz
charif@gw

:~

$ tar -xvf ./karaf-

0

.

7.1

.tar.gz
charif@gw

:~

$ cd karaf-

0

.

7.1

/
charif@gw

:~/karaf-

0

.

7.1

$ ./bin/karaf


karaf:

 JAVA_HOME 

not

 set; results may vary
Apache Karaf starting up. Press Enter to open the shell now...


100

% [========================================================================]

Karaf started 

in

 

1

s. Bundle 

stats:

 

10

 active, 

10

 total

    _______

_

                       _______

_

                ._

_

  ._

_

       ._

_

     _

_


    \____

_

  \ _____

_

   ___

_

   ___

_

 \_____

_

 \ ____

_

  __

_

._

_

.

|  |

 

|__|

 ___

_

 

|  |

__

_

/  

|_
     /   |

   \\___

_

 \

_

/ _

_

 \ /    \ 

|    |

  \\_

_

  \<   

|  ||  |

 

|  |

/ __

_

\

|  |

  \   _

_

\
    /    

|    \  |

_

> >  __

_

/

|   |

  \

|    `   \/ __ \\___  ||  |

_

|  / /_/  >   Y  \  |


    \______

_

  /   _

_

/ \__

_

  >__

_

|  /_______  (____  / ____||____/__\___  /|

__

_

|  /__|


            \/

|__|

        \/     \/        \/     \/\/            

/_____/

      \/


Hit 

'<tab>'

 

for

 a list of available commands


and

 

'[cmd] --help'

 

for

 help on a specific command.
Hit 

'<ctrl-d>'

 

or

 type 

'system:shutdown'

 

or

 

'logout'

 to shutdown OpenDaylight.

opendaylight-user@root>

Then install the features :
opendaylight-user@root>feature:install odl-netvirt-openstack odl-dlux-core odl-mdsal-apidocs

Installing Devstack
First clone, create the stack user, and switch to this new user:
charif@lap1:~$ sudo useradd -s /bin/bash -d /opt/

stack

 -m 

stack


charif@lap1:~$ echo 

"stack ALL=(ALL) NOPASSWD: ALL"

 | sudo tee /etc/sudoers.d/

stack


charif@lap1:~$ sudo su - 

stack




stack

@lap1:~$ git clone https:

//git.openstack.org/openstack-dev/devstack




stack

@lap1:~$ cd devstack

Then create a
local.conf
file and make sure that the IPs and the interfaces are accurate to your configuration:
[[

local

|localrc]]


#enable_plugin networking-odl https://github.com/stackforge/networking-odl




#enable_plugin networking-odl /vagrant/x/networking-odl.git plugin




enable

_plugin networking-odl https://github.com/flavio-fernandes/networking-odl stable/Pike


enable

_plugin neutron-lbaas http://git.openstack.org/openstack/neutron-lbaas


enable

_plugin neutron-lbaas-dashboard https://git.openstack.org/openstack/neutron-lbaas-dashboard
 
LOGFILE=stack.sh.log
SCREEN_LOGDIR=/opt/stack/data/

log


LOG_COLOR=False
OFFLINE=True
RECLONE=no
 


disable

_service swift


disable

_service cinder


disable

_service n-net


disable

_service q-vpn


enable

_service q-svc


enable

_service q-dhcp


enable

_service q-meta


#enable_service q-lbaas




enable

_service q-lbaasv2


enable

_service tempest
 
HOST_IP=https://www.linkedin.com/redir/invalid-link-page?url=10%2e1%2e0%2e101
HOST_NAME=lap1
SERVICE_HOST=

$HOST_IP


SERVICE_HOST_NAME=

$HOST_NAME


 
NEUTRON_CREATE_INITIAL_NETWORKS=False
Q_PLUGIN=ml2
Q_ML2_TENANT_NETWORK_TYPE=vxlan
 


# https://github.com/stackforge/networking-odl/blob/master/devstack/settings


ODL_MODE=externalodl
 
ODL_NETVIRT_DEBUG_LOGS=True
ODL_MGR_IP=https://www.linkedin.com/redir/invalid-link-page?url=10%2e1%2e0%2e101
ODL_PORT=8080
ODL_ARGS=

"-Xmx1024m -XX:MaxPermSize=512m"


ODL_BOOT_WAIT=70
 
ENABLE_TENANT_TUNNELS=True
 
VNCSERVER_PROXYCLIENT_ADDRESS=

${HOST_IP}


VNCSERVER_LISTEN=0.0.0.0


FLOATING_RANGE=10.1.0.0/24
FIXED_RANGE=10.2.0.0/24
FIXED_NETWORK_SIZE=256
FLAT_INTERFACE=enp3s0f1
IPV4_ADDRS_SAFE_TO_USE=10.3.0.0/24
Q_FLOATING_ALLOCATION_POOL=start=10.1.0.250,end=10.1.0.254
PUBLIC_NETWORK_GATEWAY=10.1.0.1





# Open vSwitch provider networking configuration


Q_USE_PROVIDERNET_FOR_PUBLIC=True
OVS_PHYSICAL_BRIDGE=br-ex
PUBLIC_BRIDGE=br-ex
OVS_BRIDGE_MAPPINGS=public:br-ex

 


#Q_HOST=$SERVICE_HOST


MYSQL_HOST=

$SERVICE_HOST


RABBIT_HOST=

$SERVICE_HOST


GLANCE_HOSTPORT=

$SERVICE_HOST

:9292
KEYSTONE_AUTH_HOST=

$SERVICE_HOST


KEYSTONE_SERVICE_HOST=

$SERVICE_HOST


 
MYSQL_PASSWORD=mahmoudi
SERVICE_TOKEN=mahmoudi
ADMIN_PASSWORD=mahmoudi
DATABASE_PASSWORD=mahmoudi
RABBIT_PASSWORD=mahmoudi
SERVICE_PASSWORD=

$ADMIN_PASSWORD


 
BRANCH=stable/Pike
GLANCE_BRANCH=

$BRANCH


HORIZON_BRANCH=

$BRANCH


KEYSTONE_BRANCH=

$BRANCH


NOVA_BRANCH=

$BRANCH


NEUTRON_BRANCH=

$BRANCH


SWIFT_BRANCH=

$BRANCH




##CLIFF_BRANCH=$BRANCH




##TEMPEST_BRANCH=$BRANCH


CINDER_BRANCH=

$BRANCH


HEAT_BRANCH=

$BRANCH


TROVE_BRANCH=

$BRANCH


CEILOMETER_BRANCH=

$BRANCH


 
NEUTRON_LBAAS_SERVICE_PROVIDERV2=

"LOADBALANCERV2:opendaylight:networking_odl.lbaas.driver_v2.OpenDaylightLbaasDriverV2:default"


 
 
 


# Images




# Use this image when creating test instances


IMAGE_URLS+=

",http://download.cirros-cloud.net/0.3.4/cirros-0.3.4-x86_64-disk.img"




# Use this image when working with Orchestration (Heat)


IMAGE_URLS+=

",http://mirror.us.leaseweb.net/fedora/linux/releases/27/CloudImages/x86_64/images/Fedora-Cloud-Base-27-1.6.x86_64.qcow2"


IMAGE_URLS+=

",https://cloud-images.ubuntu.com/xenial/current/xenial-server-cloudimg-amd64-disk1.img"







# Disable q-l3 and uncomment the lines below if ODL is being configured to perform l3fwd




# For more info:  https://github.com/stackforge/networking-odl/blob/master/devstack/README.rst




# enable_service q-l3




disable

_service q

-l

3
Q_L3_ENABLED=True
ODL_L3=True
PUBLIC_INTERFACE=enp3s0f1
[[post-config|

$NEUTRON_CONF

]]
[DEFAULT]
service_plugins = networking_odl.l3.l3_odl.OpenDaylightL3RouterPlugin,neutron_lbaas.services.loadbalancer.plugin.LoadBalancerPluginv2
 
[[post-config|/etc/neutron/plugins/ml2/ml2_conf.ini]]
[agent]
minimize_polling=True

Run your stack script to start the installation :
stack@lap1

:~/devstack

$ ./stack.sh

After the setup, you can access to horizon dashboard to create and play with your VMs using this link :
https://10.0.0.5/dashboard
Conclusion
Setting up a cloud environment with SDN is not straightforward. However, once up and running, its a very powerful environment that can be used for exiting experiments using the service function chaining for example. I will try to follow up with a more detailed article about SFC